iPrescribe supports real-time reconciliation of the active medication list so you can decide which prescriptions to add, keep, or stop.
To trigger a medication reconciliation workflow:
1. Begin prescribing a medication as you normally would.
3. Enter and review prescription instructions as you would normally for a prescription.
4. Select Sign & Send for the duplicate prescription.
If you prescribe a medication that is either a duplicate therapeutic to a medication that is already listed under the patient's Active Medications you would see the medication reconciliation screen appear.
Note: When prescribing in iPrescribe, a prescription gets added to the Active Medications list of the patient profile as the prescription is sent to the pharmacy.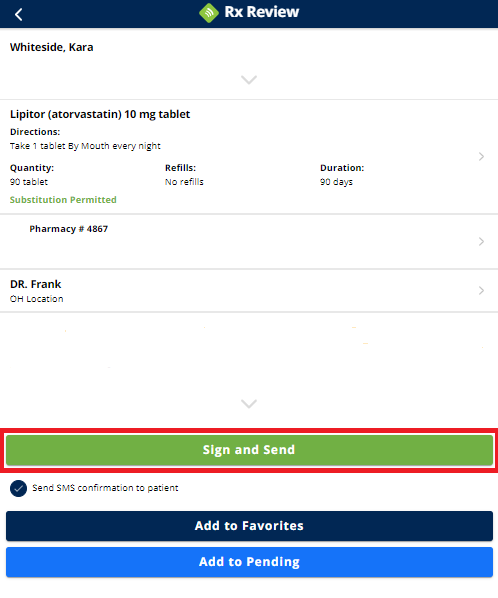 (click to enlarge)
5. The app will prompt you to Stop the previously prescribed medication in order to Add the new medication you are prescribing.
6. Select Submit to indicate you have reconciled the duplicate medications and continue sending it to the pharmacy.
Note: Currently, there is no way to edit the stop date for a medication in iPrescribe.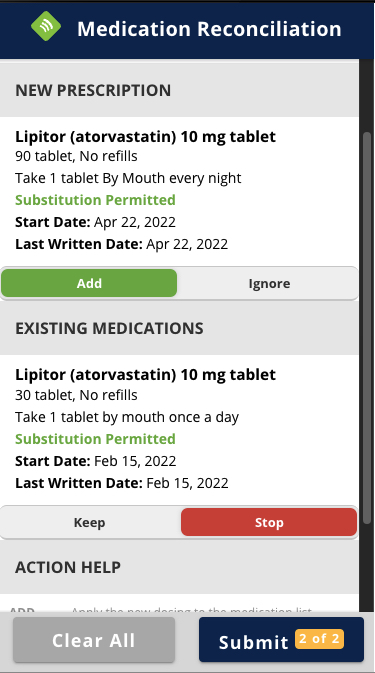 (click to enlarge)