This article defines free text drugs, shows the 'red pill' icon associated with prescriptions created with them, and explains that these prescriptions will not transmit electronically.
Free text drugs are not selected from the search results.
Free text drugs are created when 'Enter free text' is selected instead of a specific medication from the search results.
(click to enlarge)
When 'Enter free text' is selected, the Prescribe Medication page will display a red pill icon. Hovering over this red pill produces the message below: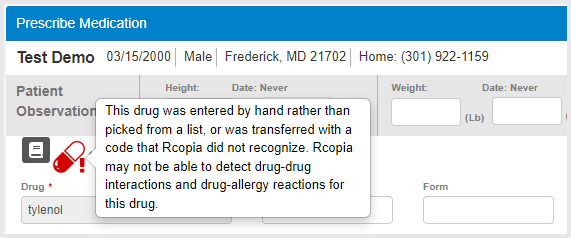 (click to enlarge)
Note: free text drugs may not trigger alerts for drug-drug interactions and drug-allergy reactions.
Free text prescriptions do not transmit electronically.
Non-controlled prescriptions will attempt to go by fax.
Controlled substance prescriptions will be marked undeliverable.
Free text scripts are usually sent to pharmacies via fax and are only sent electronically if they meet these exceptions:
Compound or Supply/Equipment selected under Drug Type drop-down menu and
No selected under Scheduled Drug drop-down menu) and
Not a controlled substance
To avoid entering free text, providers should:
Optimize search. The best way to search for a drug in DrFirst is by typing the first few letters into the search field (e.g., ibu for ibuprofen or acet for acetaminophen).
Confirm valid and up-to-date NDC is being transmitted from EMR/EHR.
Avoid entering dose with the drug name. The database does not recognize a drug name when that drug name is entered together with dose strength in the search field.
Contact to add a missing drug. Submit a request to ask for a drug name to be entered into the database.
(click to enlarge)
To enable electronic prescriptions, the provider will need to delete the free text script, search for the drug in the database, and create a new prescription with the correct drug selected.