This article provides instructions on how to reset your login password for the following products:
Help Center Password Reset
Go to help.drfirst.com
1. Click the Sign in button located at the top-right corner of the page.
2. Click forgot my password in the window that appears.
3. Enter your email address and click Submit.
(click to enlarge)
If you are an existing user, DrFirst will send you an email with a link to reset your password.
Rcopia Password Reset
Start on the Rcopia login page, then follow the steps outlined below:
1. Click Forgot Password.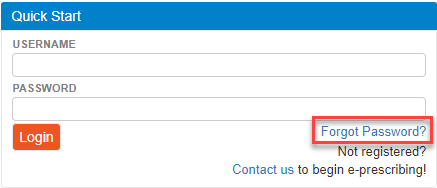 (click to enlarge)
2. Follow these steps in chronological order, and refer to the screenshot below
(A): Enter your Username.
(B) Enter the CAPTCHA text.
(C) Click Submit.

(click to enlarge)
3. Your password reset instructions are sent to the email address associated with the account. Open the email and Click on "Reset Password" link in the email.

(click to enlarge)
4. You will need to answer 2 out of 3 security questions correctly.

(click to enlarge)
5. Enter the new password in twice.

(click to enlarge)