Prerequisites: Step 1: Register for iPrescribe and Step 2: Identity Proofing with ID.me
After ID.me has verified your identity, you will need to complete the following 6 actions before you are able to prescribe non-controlled substances:
1. Opt in to enable push notifications; this allows the app to notify you of updates
2. Accept the terms of use
3. Create security questions and answers:
You will be prompted to choose 3 questions to strengthen your account security and facilitate password recovery.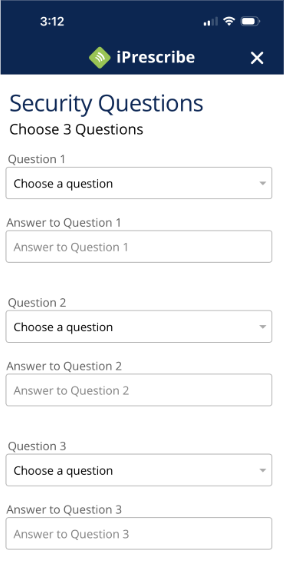 (click to enlarge)
4. Set up an e-signature:
(click to enlarge)
As depicted in the above image, DrFirst requires your handwritten signature to transmit e-prescriptions to fax-only pharmacies or in the event of an EDI failure. If you choose not to submit your signature, Drfirst will be unable to attach it to prescriptions that drop to fax. Pharmacies may contact you to verify the validity of prescriptions faxed without a signature.
5. Confirm your email address:
Once you enter your preferred email address, check your email to confirm the address you shared, then come back to iPrescribe.
If there is an issue with your email, we will ask you to confirm again. Change email at any time in Settings. Remember to check your SPAM folder if you do not see a confirmation email.
(click to enlarge)
6. Opt in to Patient Finder:
Patient Finder allows you to quickly locate and manage patient information for e-prescribing.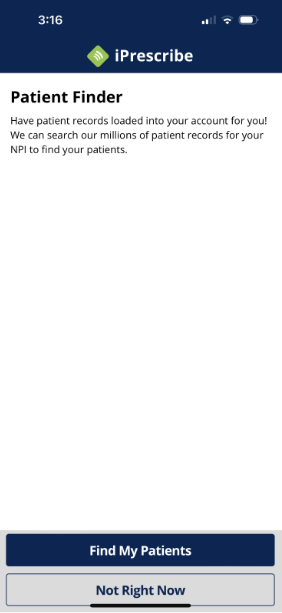 (click to enlarge)
To enable your user account for the electronic prescribing of controlled substances (EPCS), you will also need to complete Step 6: Activate EPCS.