As part of our ongoing efforts to better serve you, we have made changes to our support process. This new support process emphasizes quicker response times and more comprehensive solutions to better meet your needs.
To offer a more customized Support service, we are assigning customers with unique product integrations a phone line, account ID, and PIN to contact Support.
If you are part of this group of customers, you will find a ticket with instructions once you Sign in to your Help Center account. For further details, please select the drop-down instructions below.
We thank you for your patience during this transition. Your feedback is important to us, so we invite you to complete a survey about your experience.
Retrieve your credentials
1. Go to https://help.drfirst.com/hc/en-us/.
2. Select Sign in at the top of the web page.
3. Enter your username and password.
If you forgot your password, select Forgot password on the pop-up screen.
If you already submitted a request without an account, complete your Sign up process by selecting Get a password.
If you need to create a Help Center Account for the first time, select Sign up.

Note:

We recommend that you use the same email address as for other DrFirst products, so that Support agents can quickly verify your identity.
4. Click your name on the top-right corner of the web page.
5. Select My Activities from the drop-down menu.

(click to enlarge)
6. Find a solved Support request (ticket) with the subject line 'New DrFirst Phone Support Experience.'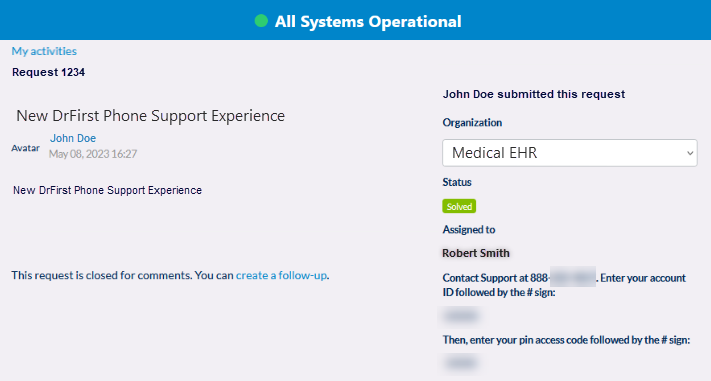 (click to enlarge)
7. Click into the request to find your dedicated phone number, account ID, and PIN on the right-hand column of the request (ticket).
8. Keep this phone number, account ID, and PIN in a place where you can reference it each time you need to contact DrFirst Support.
To learn how create a Help Center account to view My Activities at any time, visit: Introduction to Support Requests & Help Center.
Use your credentials
Call the unique phone number you retrieved using instructions above.
Follow the prompts until your account ID and PIN are requested, which you retrieved using instructions above.
Provide the account number and when prompted provide the PIN.
The system will then connect you with a support agent.